What makes the resin those popular crafters create different from yours? I believe it is not a problem with your skills. Maybe the secret lies in the tools they use! You may have noticed the use of UV nail lamps in your daily life, but did you know UV light can also cure your resin handicrafts? In the following passage, you can find the best UV light for curing resin in 2023 and learn some basic knowledge about curing resin with a UV light. Let's start!
Why do I need a UV light for curing resin?
If you make handicrafts with UV resin, like polyester resin or polyurethane resin, curing them with the sunlight will take hours or days. Sometimes the sunlight fails to cure because the UVA light in it is not enough. It will absolutely save you time to use a UV light and get your product finished in several minutes. And not curing it and letting it dry naturally will make your work weaker than that cured by UV light. Besides, a UV light can help provide sharper outlines for your work after curing.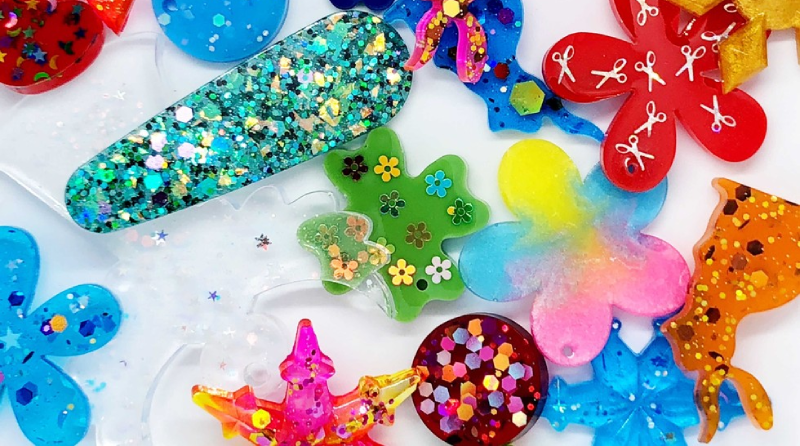 How do I choose the best UV light for curing?
Power
The more power a UV light has, the more intensity of light it can provide. And with a UV light that has high power, curing can be finished as quickly as possible. Thus, when you are shopping for a UV light, you can check the details of the product to find out how many led beads it has and how much power each led can provide. How much power is enough also depends on the size of your handicrafts. If the objects you are curing are small, you don't need such a high-power UV light.
Wavelength
This is one of the most frequently asked questions. There are three types of UV lights and they have different uses. For curing resin, we use UVA light, whose wavelength ranges from 320 nm to 400 nm. UVA causes the least harm to human bodies and performs well at penetrating the surface of a substance.
Flexibility
You need to give your work an overall cure in case it breaks because of some weak points. Therefore, a UV light that can adjust the angles will be convenient and helpful.
Multi-purpose
UVA can not only cure resin but also several other things like special glues, ink, nail polish, etc. So you can consider buying one and making use of it for different materials. If so, you need to compare and choose the suitable size and power.
3 Best UV Light for Curing Resin
1. SOVOL 3D PRINTER UV LIGHT FOR RESIN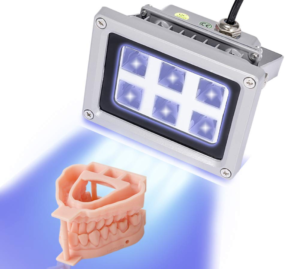 Price: $20.99 (Amazon)
Power: 1 W * 6 LED light beads
Light emission wavelength: 405 nm
Light body size: 115 * 85 * 75 mm
Selling points
SOVOL UV curing light contains 6 LEDs. Compared with the traditional UV light, the LED has higher light efficiency.
Its rear bracket enables you to change the angles so that you can cure every part of your work. And you can install the UV light at various places, like the wall, ceiling, and so on.
LED is a cold light source, which means it emits little heat. For one thing, it will not affect your work. For another, since the lifespan of a light is closely related to temperatures, the UV light is expected to serve for at least 10000 hours. As for a common mercury UV lamp, it can only last for 8000 hours.
Customer reviews
Its construction is as solid as a rock, and it emits consistent light.
It works well, but sometimes I may overexpose my finished print. Just a reminder, remember to use protective eyeglasses.
It is more effective than a UV flashlight and easy to use.
2. MelodySusie 36W
Price: $39.99
Power: 6 W * 4 LED beads
Light emission wavelength: 365 nm
Light body size: 9.45 x 8.27 x 3.94 inches
* The power input must be 110 volts.
Selling points
It does a good job of curing not only gel nail polishes but also resin, CND Shellac, rhinestone gem glue, etc.
You don't have to stay around the UV light to turn it off in time. MelodySusie UV light has the function to set timing and turn off automatically.
The power of this UV light is 36 watts, shortening the curing time by 50%.
It has a removable base plate, making it quite easy to change the bulbs.
Customer reviews
I love the time setting on this lamp, and its size is good for me.
The slide-out tray is very convenient. This light helps me make resin earrings.
This light is perfect for me to cure UV resin and make polymer clay and resin jewelry. The most efficient ever. Besides, it provides a 6-month warranty.
3. SUNLU Resin UV Curing Box
Price: $49.99
Power: 6 W*10 LED beads
Light emission wavelength: 405 nm
Light body size: 10.5 x 10 x 4.5 inches
Selling points
The turntable can rotate for 10 revolutions per minute. Since making the illumination your works receive even is very important, this is a very useful function.
Its box is made with special optical filter material and won't let any UV light emit out of it. When you open its door, it will automatically turn off the UV light. Very safe to use.
You can directly set the curing time from 0 to 600 seconds on the controlling plate.
Customer reviews
It is easy to install and use, and the timer is separate from the curing box, making it easy to be replaced.
It is really automatic; I don't need to monitor the machine all the time.
I like the timer and a motorized turntable. The space is enough for my small prints.
Q&A about curing resin with a UV light
Q: Can I use an LED light to cure my resin?
A: No. The LEDs we use in our daily life emit white light, and the RGB LED creates light of other colors. No matter what color the light emitted by an LED is, it belongs to visible light. Yet UV light is invisible light, which is totally different from the common LED light.
Q: Why is my UV resin sticky after curing?
A: There are two possible reasons. One is that you don't choose the right UV light. As we discussed before, the UV light we need is UVA light. Besides, maybe your UV light is not powerful enough, so you have to cure your handicrafts for more hours. The other reason is about the resin you are using. Resin that contains a reasonable amount of initiators and curing agents is considered easier to cure.
Q: Can I overcure my resin?
A: You'd better not. Exposing your resin under the UV light for too long will not make your resin more rigid. On the contrary, the thin parts of your work will degrade and become fragile. So when should you stop curing your resin? You can carefully observe its surface. A well-cured resin will look matte.
More lights at Mokolight
Not finding ideal UV lights for your beloved handicrafts? Come visit Mokolight and contact us! We are an original LED manufacturer and are able to produce custom UV lights to meet your needs. As a LED manufacturer with over 16 years of experience, we take responsibility for providing the UV lights that have gained certifications all over the world. Never miss it!