I believe you have seen the banners hung on the lampposts when a big event is coming to your city. This is a basic type of lamp post advertising. Nowadays, as lampposts light up every corner of our world, lamp post advertising becomes a part of our lives. It is a helpful tool to spread certain messages and can also improve brand awareness. To be a successful shopkeeper or brand owner, it is necessary to get to know this effective way of advertising. Read this passage to learn about lamp post advertising and choose the right advertising lighting for your business!
Classifications of lamp post advertising
Banner lamp post advertising
Sometimes you will notice something on the lamppost blowing with the wind. That is what we call banner lamp post advertising. It is usually made of polyester cloth, Oxford cloth, or inkjet cloth. People aim to find fabric that is easy to print on and can keep the pattern when exposed to water. Traditional banner street pole advertisements are not fixed, so as long as there is a strong wind, it will be hard for pedestrians to identify the content on the banner. So later, people fixed the top and bottom of the banner to make it steady.
Because banner advertisements are very simple, they are easy to install and remove. If you want your products to influence a wide range of areas, banner lamp post advertising has an obvious advantage: its low price. While it is easy to install, it can also be easy to break down because it is exposed directly to sunlight, rain, and wind.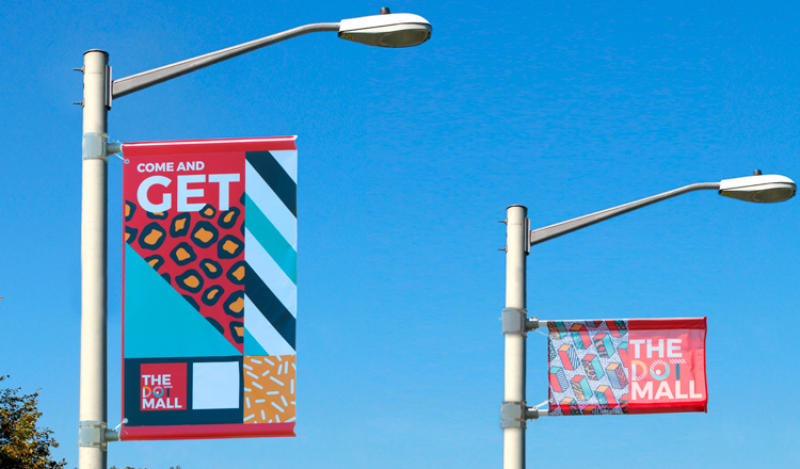 Light box lamp post advertising
After people made use of the light box advertising in front of their stores or at the bus stops, they found another place where advertisements could attract a lot of traffic: the lamp post. Since the lamp post cannot bear the weight of common light boxes, people invent slim light boxes. Inspired by the backlight technology of LCD TVs, inventors managed to update the light box to a much lighter one. As a light box, it also has a frame, which is usually made of aluminum because of its rigidity. There are light bars, a bottom plate, an acrylic light guide plate, and a light sheet in the light box. The light guide plate is what makes the light box slim. A spot light can emit the whole plate, so it doesn't need many lights.
Compared with the traditional light box, it has many advantages:
Light and compact: the slim light box is three times thinner than the common light box. Besides, it is convenient to change their size.
Easy to install and replace: its frame is usually designed with locks and can be opened like a window, which means you don't need to disassemble the frame with tools.
Energy-saving: Thanks to the light guide plate in the light box, it needs fewer lights. And the brightness of the lights doesn't have to be that high, either.
Dynamic lamp post advertising
Sometimes dynamic lamp post advertising can help you provide a more vivid and impressive image to your viewers. Two mainstream forms of dynamic lamp post advertising are those using programmable LED modules and digital lamp post advertising using LED panels. Programmable LED modules can achieve dynamic effects in some parts of the advertisement. The chips of the LED lights can recognize the order they receive, and each LED will function to change the light effect, respectively.
Digital lamp post advertising has fewer limits. It is like a computer screen and can display whatever you want. With digital lamp post advertisements, you don't need to change the content by replacing the cloth. You can control the screen from a long distance. But as a type of lamp post advertising, its demerits are obvious too. The first is its high cost. If your budget is tight, setting up a lot of digital advertisements will be difficult. Second, some LED screens cannot be as light as slim light boxes, which makes them unsafe. And you need to make sure that the screen can stand harsh weather conditions like long-term sunlight exposure, rain, and wind.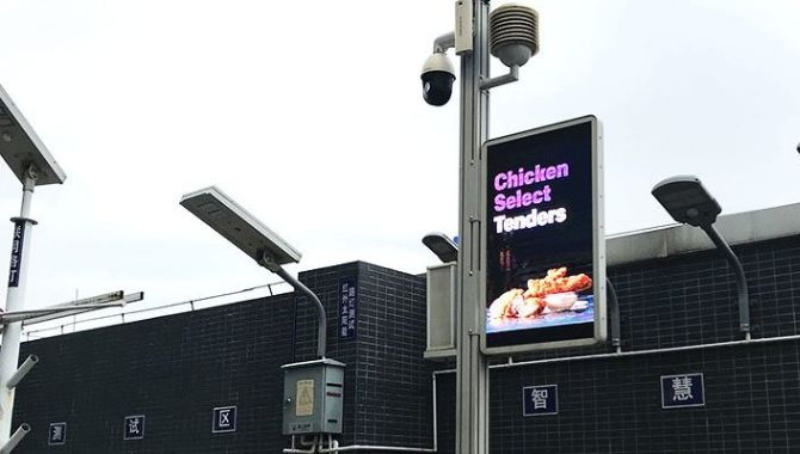 Is lamp post advertising worthy?
There are so many different types of outdoor advertisements; why should we choose lamp post advertising? You can refer to the comparisons below and consider if it is worthy for you.
Compared with billboards
When it comes to billboards, high costs are what most of us think of. There are fewer places to set up billboards than lamp post ads. Though it is larger and more eye-catching, sometimes there can only be one billboard in a certain area. Yet for street pole ads, since they are not so expensive, most brand owners can afford to set up many of them so that they can leave an impression on viewers repeatedly. The suitable places for these two are different. Billboards appear at the roadsides of the highway, while street light pole advertising is set at the roadsides of the streets.
Compared with the common light box
The light box is not as expansive as the billboard. As for the size, it is the medium one, which is suitable to show some pictures. For lamp pole advertising, maybe text is what people use more to convey a clear message. You can set up many light boxes at one time, but it is uncommon to set up several advertisements that are the same as each other on one street.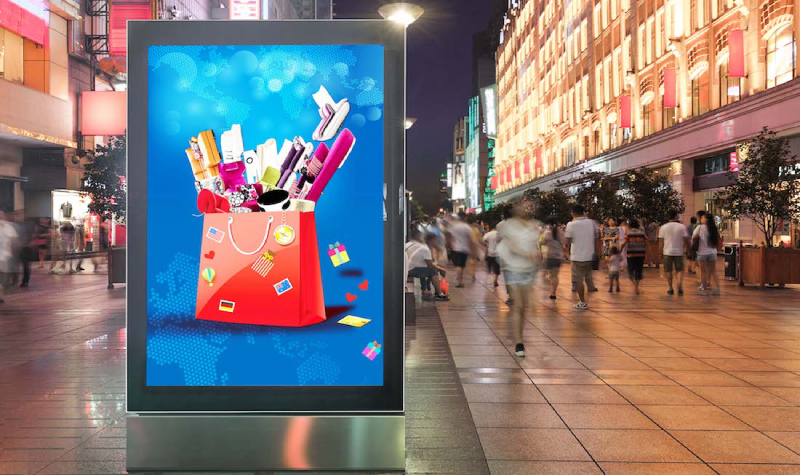 How do I choose a lamp post advertising light box?
If you want to use lamp post advertising to boost your business, the light box can be a good choice. And here are several tips on how to choose the best one:
Light weight
The light box is installed on the lamp post, so you have to consider safety. And being light enough will be sure to cause less damage if anything happens. A slim light box made of acrylic can reduce the weight to a large extent.
Resistant to extreme weather
Light pole advertising needs to be resistant to extreme weather because of its high position. Sunlight, wind, and rain will likely damage your light box or destroy the circuit within it. To deal with this problem, you can choose an aluminum case, which is waterproof and antioxidant. And remember to check the seal of your case to prevent water from running into it.
Brightness
As a light box, one of its most important functions is to emit light that is bright enough to attract the attention of passersby from a distance. The brightness is related to the LED lights inside. Make sure to choose lights that have enough power and efficiency. Its ability to dissipate heat is essential as well, since it affects its service life and whether it will have severe light decay.
Mokolight offers the best light box
Here at Mokolight, we know best what kind of light box you want, and then provide satisfying service and products of high quality. We have faith in our warmhearted salesmen and engineers and the qualified products that have been produced for 16 years by our own factory. If you are considering using lamp pole advertising to improve your brand awareness, you should give Mokolight a chance and contact us right now!