When people think of LED horticulture lighting, the first thing that springs to mind is a purple glow produced by fixtures with red and blue diodes. These colors have been the preferred choice for lighting manufacturers in the industry. The reason behind this preference lies in the specific benefits that red and blue light provide to plants. Blue light, which falls within the 5000 Kelvin to 6500 Kelvin range, plays a crucial role in promoting leaf growth, making it well-suited for starting seeds indoors. On the other hand, red light, ranging from 2000 Kelvin to 3000 Kelvin, is particularly effective during the flowering stage of plants and significantly influences overall plant growth, including height. But what about green light? Do plants use it? Let's take a deep dive into green lights!
Why Do People Say Plants Do Not Use Green Light?
Plants Are Green
Chlorophyll is the key pigment that absorbs light energy and drives photosynthesis in plants. There are two primary types of chlorophyll: chlorophyll-A and chlorophyll-B. These pigments are most efficient at absorbing blue and red light.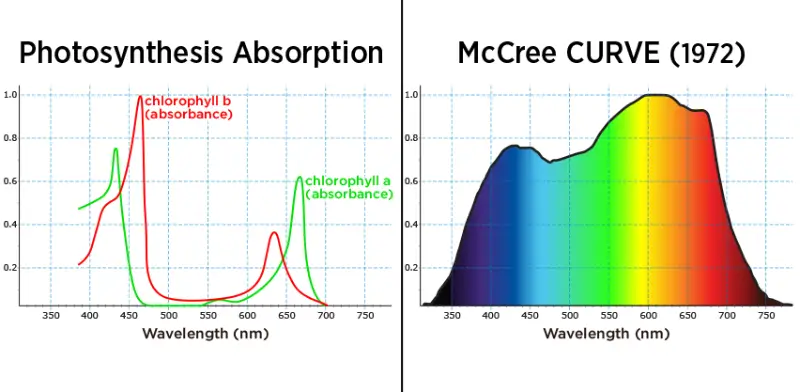 The green color of plants is actually the result of chlorophyll reflecting green light rather than absorbing it. This is why plant tissues often appear green. As a result, it might seem that green light is being wasted, as it is neither absorbed nor utilized by plants for photosynthesis.
Green Light Won't Disrupt Light Cycles
Growers are aware that green light does not interfere with a plant's photoperiod during its night cycle. When exposed to light during their dark period, some plants—known as long day or short day plants—will experience a disruption in their natural biorhythms because they are so sensitive to day length. Pure green lights, on the other hand, have no effect on a plant's photoperiod.
This misconception has led some to believe that plants barely utilize green light. Some have incorrectly stated that "plants do not photosynthesize with green light." However, as demonstrated by McCree several decades ago, plants do indeed utilize green photons for photosynthesis. Plants simply do not rely on green wavelengths to determine day length.
How the Phytochrome System Works
Plants rely on the phytochrome system to monitor light and dark cycles. Phytochromes, which are chromoproteins, have the ability to absorb either red or far-red light. This system also helps plants determine if they are in a heavily shaded environment, such as under a dense canopy. Green lights do not directly affect these specific receptors, but that does not mean it has no impact on photosynthesis.
Numerous studies have repeatedly debunked this false assumption. For instance, research conducted on spinach has shown that the quantum efficiency under green lights was approximately 10% lower compared with red light, while it was around 25% lower for blue light compared with red light. These findings are intriguing because they indicate that although green light may be slightly less efficient than red light, blue light is even less efficient.
Is Green Light Useless to Plants?
Researchers at Utah State University have discovered that green light, which can make up up to 30% of the light spectrum, can be just as effective as red and blue light in promoting plant biomass gain. While the upper leaves of a plant primarily absorb red and blue light, they transfer more green light to the lower leaves, allowing for photosynthesis. Additionally, other pigments like phycoerythrin can effectively absorb green light and drive photosynthesis. Green LEDs also has the ability to stimulate stem elongation, which enhances light capture for plants.
Moreover, the McCree curve, which is commonly used to understand the average light absorption across PAR wavelengths, has its own limitations. It is based on instantaneous measurements taken on single leaves under low light conditions. Since plants constantly adapt and optimize their growth in response to their environment, the McCree curve does not accurately predict long-term plant growth. Therefore, its usefulness is limited to specific situations. Furthermore, the lowest dip in the McCree curve is actually in the upper blue region, not in the green region.
Why Green Light Is Not Included in Some LEDs?
Excluding green LEDs in practical terms is mainly due to the "green gap" issue. Green LEDs, which rely on gallium nitride (GaN) as a crucial material, face challenges in efficiently generating light. The presence of an electric field in GaN hinders the combination of positively charged holes and negatively charged electrons, resulting in reduced light output. Consequently, green LEDs are less energy efficient compared with red and blue LEDs. They emit less light while consuming the same amount of energy.
To address this issue, engineers and physicists are working on innovative material manufacturing techniques. Alternatively, green light can be obtained by applying a yellow phosphor coating to blue LEDs, which converts some blue light into green and red light. The combination of these three colors produces white light. Although this phosphor conversion renders white LEDs less effective than red and blue ones, there is a benefit. White light facilitates the detection of pests, diseases, and nutrient deficiencies, which is advantageous in agricultural settings.
What Happens to Plants on Land in Green Lights?
Early experiments using algal suspensions have shed light on the role of blue and red light in the process of photosynthesis. However, these experiments do not fully capture the complexity of plant systems in terrestrial environments, such as gardens, where plants possess leaves and form layered canopies. This raises the question: What happens to plants on land in green lights?
Reflected Light
When green light shines on a leaf, a portion of it is reflected. This results in the green coloration that we observe in plants. Initially, this reflection might appear as wasted energy. However, considering the phenomenon of canopy penetration, this reflected light serves a purpose. The reflected light gets scattered and transmitted to lower leaves within the plant's canopy. This process helps to minimize the senescence of lower leaves by providing them with at least some amount of light.
Absorbed Light
Examining a cross section of a plant leaf reveals that the upper layer predominantly absorbs blue and red light wavelengths. While green light does get reflected to some extent, a portion of it is also absorbed by accessory pigments in the leaf. In addition to chlorophyll-A, plants possess pigments such as carotenes and xanthophylls, which broaden the range of the absorbable light spectrum. As a result, these pigments enable the harnessing of a portion of the green light for the process of photosynthesis.
Light Penetration
The upper layer of a leaf's surface primarily captures blue and red wavelengths of light. This raises the question of how the lower tissues of the leaf receive adequate light. This is where the significance of green light comes into play. It possesses the ability to penetrate deeper into the leaf. As it travels this extended path, green light undergoes multiple reflections inside the cellular structures of the leaf. ​Therefore, green LEDs play a crucial role in facilitating photosynthesis in the lower regions of the leaf.
Certain LED manufacturers like MOKO, have recognized the intricate and valuable nature of green light in promoting plant growth. Ongoing research is pushing the boundaries of plant lighting beyond the traditional red, green, and blue light spectrum, exploring the unique roles of far-red and UV light in plant development.
The decision to buy green LEDs depends on other objectives. If creating a pleasant work environment is the priority, white LEDs are recommended. However, for achieving energy savings while providing sufficient light, red and blue LEDs are more efficient. Overall, the impact of green light on plant growth should not be a major deterrent in decision-making, as it can vary among different plant species. Therefore, conducting individual trials is important to assess the specific responses of plants to green light.
About Mokolight
Mokolight, a market-leading LED supplier, has developed adjustable LEDs equipped with multiple color channels, including green, with the aim of assisting growers in enhancing the yield and quality of their plants. If you have any inquiries, please feel free to reach out to us.