One-stop Service in LED PCB Assembly
First-class service in components sourcing, LED PCB assembly, and cable assembly at MOKOLight
LED PCB Assembly Production Cases
LED Module For Street Light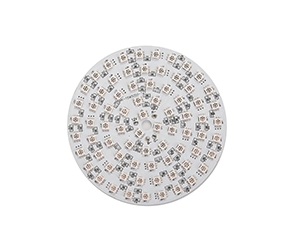 DC220V/DC110V Driverless LED Module
UV405nm LED Module for 3D Machine
LED Module for Music lights
LED Module For Aquarium Light
LED Module for Traffic Light
LED Module for Signal Light
Why Choose Us for LED PCB Assembly?
1. Professional Communication:
24 hours online services. As long as we see the message, we will immediately reply. We use a variety of social software, such as E-mail, Whatsapp, Skype, WeChat, Linkedin, Facebook, etc. As long as customers need us, we will always in here. Our sales team consists of 65 people, who are fluent in English and have done strict training before taking up the post. Every salesman is very familiar with the products and components for customers. The R&D team has 70 people, who give us strong technical support so that salespersons can timely answer customers' questions.
2. FREE Design for LED PCB
For LED PCB assembly, we can provide free design services. According to the requirements provided by customers, we will design the LED Module which satisfies the customers. A project is generally completed within 1-2 days.
Since we've been doing LED PCB assembly for 16 years, we have a lot of customers and orders, and we have very supportive quality suppliers.
4. 100% Original LED Chip
When we get a inquiry, we will confirm led chips with our clients, for example, Voltage BINs, CCT BINs, Luminous Flux BINs, SDCM, and completed part number.
All LED chips are bought from original factories or official agents. We will show proof and certificates for our clients. When we get led chips, we will test them by integrating sphere. We can show the production video for clients and offer free samples before mass production. All LED chips are 100% original.
Because of the large shortage of supply materials, especially IC and some imported materials, we will make a plan for customers in advance and purchase some materials in shortage in advance to ensure the normal progress of the project. We have special engineers to follow up the shortage of materials.
The production time of LED pcb is 15days and LED pcb assembly time is 5-7days.
6. Strict Quality Control System
As for the quality control procedures, it will be complex in our production system, let me introduce it shortly.
a. Supplier control
90% of suppliers have been working with us for over 3years. If we work with a new supplier, they must pass our quality assessment system. Moreover, our purchasers will go to their factories to check their quality control before they become our suppliers. For some important suppliers, we will go to their factory every three months. We have 20 purchasers.
b. QC for components, our factory-approved ISO9001, all components must be QC before production, and our IQC is strict.
c. 100% QC for production, 100% QC for blank PCB→ 100% QC before the board go through Wave soldering machine→ after SMT, we will do AOI(100%)→100% DIP QC→100% Loading firmware→100%function testing for PCBA→100% testing after assemble housing
7. Professional Production
Our factory has 300workers and 20engineers on production, 5SMT lines and 3DIP lines. We also have 2lines for completed light assembly.
All production follows ISO9001 requirements.
When you place the order, our engineers will check all files and clients' requirements to make the Standard Operation Procedure(SOP), every worker will get the SOP and know the production details, all steps will follow the SOP. All led chips must be dried for 48hours. Our engineers will set the reflow condition according to components' temperature. Our solder pastes are environmentally friendly and lead-free.
During production, different voltage BINs will be soldered separately. Our worker will mark different LED modules with different labels. 100% lighting tests must be done. We have rich experience on soldering led chips with lens, for example, Osram 3.24, 4.24 led chips and other high power led chips, our worker is very careful with these details.
Good packaging is the basic guarantee for our transportation. We have special engineers to design the package. They will do transport tests before making a good package. We often use EPE pearl cotton, bubble roll, carton, Anti-static bag, Anti-static Blister and wooden box. We will choose different materials according to the products.
8.Guaranteed after-sales service
If our components have any problems(except design problem or client's problem), we must help our client to solve them. Below is our regular solution for clients:
a. resend good products: For small quantity failure.
b. repair: It's for high value and big quantity, it's free to repair goods within 1year. If it's our components' problem, we will bear all lost including shipping cost, tax, labor fee and other cost.
c. pay compensation: If our client can repair goods at their local place, we will reach agreement with them and pay corresponding compensation for them.
Our clients are from all over the world, and they are satisfied with us since we are reliable and responsible.
LED PCB Assembly Production Flow
1. What PCB materials are used for led lights?
We often use a single Aluminum PCB for LED lights. FR4, CAM1, and CAM3 are used for led lights. Their price is similar to Aluminum PCB, but the function is not better than Aluminum PCB. We also can produce double layers of Aluminum/FR4 PCB.
2. How long and wide can you make LED PCB?
If you use Aluminum PCB, the longest length is 1500mm and the widest is 360mm. We can discuss more details if you have special requirements.
3. Can you produce led controller PCB, led driver PCB and Finished lights together?
Yes, we can. We can source all components, including LED chips, connectors, ICs, resistors, capacitors, cables, boxes, and other materials. Our factory can do SMT, DIP, potting, all tests, program IC, and produce Finished lights. If you want to produce other parts, pls feel free to contact me.
4. How fast is the SMT machine?
Our SMT machines are international brands, like Yamaha and Sony. So generally speaking, the speed of SMT machines is 10,000 points per hour.
We cooperate with many famous led chip factories, for example, CREE, LG Innotek, Nichia, Samsung, Osram, Lumileds, TT Electronics, etc. As for those brand led chips, we can guarantee our led chips are 100% original since we buy those led chips from the official agent.